"Why haven't historical fiction authors jumped in?" Sophie wondered. "We could pick a historical event and go to town! What event?"
"Sinking of the Titanic? Downton Abbey tie-in . . ."
"Field of the Cloth of Gold? Tudor tie-in . . ."
"Destruction of Pompeii . . . ?"
Eyes gleamed. And this project was born.
It's been a wild, sometimes rocky, always exhilarating ride. Our original trio was swiftly joined by three more musketeers. I screwed up the nerve to approach Ben Kane, whose work I adore (after being wowed by the gorgeous mayhem he wreaked with the Spartacus legend, I knew he could tear the top off a mountain in style). Vicky Alvear Shecter already had a hit YA HF novel in the works about Pompeii ("Curses and Smoke," highly recommended!) but didn't mind revisiting the lava fields with us. And self-pub goddess E. Knight joined the Good Ship Pompeii and firmly took the tiller, steering the rest of us self-pub newbies through the waters of the Indie Ocean.
I am uniquely proud of what I and my five co-authors have put together in "A Day of Fire." I think, frankly, that it's awesome. Some of that was planned (the careful plotting we did to interweave characters; the careful research into the latest Pompeii archaeological findings), and some of it wasn't (how did we get such a perfect cross-section of Roman society in our protagonists? Sheer luck). But we worked hard, and it was worth every moment.
And at long last, our story about the final days of Pompeii is available in e-book and print!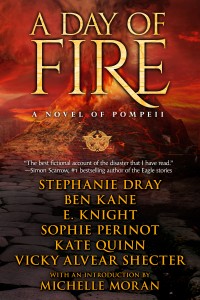 "This truly is the finest book I have read this year, an emotional roller-coaster that educates while it entertains. Its impact will stay with me for quite some time." ~Parmenion Books
"Despite knowing what happens in Pompeii and to the majority of its citizens, A Day of Fire is a book full of suspense, fear, and unexpected bravery." ~Ageless Pages
"I can't praise this book highly enough. It's a rattling good tale of disaster, death, resolution and rebirth." ~Dodging Arrows
"I LOVED this! The writing style, the choice of stories told, the evolution of characters, the drama. I couldn't have asked for anything better." ~The Maiden's Court
"Each one of these authors deserves a huge amount of praise for putting this impressive piece of art together." ~Steven McKay
DESCRIPTION:
Pompeii was a lively resort flourishing in the shadow of Mount Vesuvius at the height of the Roman Empire. When Vesuvius erupted in an explosion of flame and ash, the entire town would be destroyed. Some of its citizens died in the chaos, some escaped the mountain's wrath . . . and these are their stories:
A boy loses his innocence in Pompeii's flourishing streets.
An heiress dreads her wedding day, not knowing it will be swallowed by fire.
An ex-legionary stakes his entire future on a gladiator bout destined never to be finished.
A crippled senator welcomes death, until a tomboy on horseback comes to his rescue.
A young mother faces an impossible choice for her unborn child as the ash falls.
A priestess and a whore seek redemption and resurrection as the town is buried.
Six authors bring to life overlapping stories of patricians and slaves, warriors and politicians, villains and heroes who cross each others' path during Pompeii's fiery end. But who will escape, and who will be buried for eternity?
Buy Now:
Amazon | Barnes & Noble | Goodreads
It was on another Release Day that "A Day of Fire" was first conceived, the champagne-fueled brainchild of myself, Stephanie Dray, and Sophie Perinot. We were having a celebratory lunch in honor of my latest Borgia book, and swapping idle ideas for future projects. "Continuities," Stephanie mused, and was met with blank looks. "Basically, a novel in four parts, written by four authors, or however many are working together. Romance authors do it all the time."